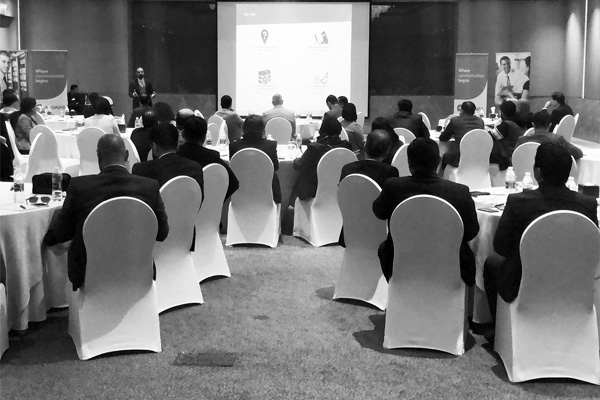 Over 75 senior executives from across the GCC discussed Bahrain's approach to the cloud, infrastructure as code and the primacy of security at a half-day seminar at the Downtown Rotana in Manama on Wednesday 23 January 2019.
Co-hosted with Infonas, an AWS consulting partner specialising in data centre migrations to cloud, re-platforming and serverless technologies, the seminar raised a number of critical issues, according to Srikant Ranganathan, a senior director who leads Keypoint's IT consulting function. "With the public sector in Bahrain – and across much of the GCC – taking the lead in migrating data and systems to the cloud, some key decisions have already been taken. But – as with any journey – there are a number of different ways of reaching the same destination so roadmaps are key. Giving our audience access not just to our expertise but also Infonas's expertise in infrastructure as cloud offered a number of different perspectives."
Studies suggest that cloud computing – the practice of using a network of remote servers on the internet to store, manage and process data, rather than a local or on-site server – has significant advantages over traditional computing practices. Bahrain's cloud-first policy document, developed by the Information and e-Government Authority (iGA), suggests that the migration of government services to the cloud could deliver higher business value, optimise costs through standardised infrastructure management, improve service quality and business continuity, and promote a holistic, nationwide approach.
Srikant says that the advantages of a cloud-first policy are clear. "The benefits of a cloud-first policy include an immediate reduction in costs, improved systems resiliency, better integration and improved collaboration, improved agility, better budget control and upgraded continuity. However, there are significant hurdles – and making security 'front of mind' is a significant part of every successful cloud migration."
Speakers at Wednesday's seminar included Osama Al Alawi, a manager with Keypoint's IT and financial regulatory compliance functions who spoke on Bahrain's position in the cloud, and Rayan Britto, a senior IT security specialist, who stressed the importance of cloud security, both data and systems.